Pane di Puglia   [This is a wonderful light bread that freezes well and makes great toast]  Recipe courtesy of Mary Whiting, Gainesville.
Biga (starter)
1/4 tsp. active dried yeast
1/4 cup warm water
3/4 cup plus a bit more water, room temperature
21/2 cups all-purpose, unbleached flour [I use King Arther bread flour, unbleached]
Stir yeast into warm water. Let stand for 10 mins. Stir in remaining water, then flour, 1 cup at a time. Mix with wooden spoon 3 to 4 mins. Remove to lightly oiled bowl, cover, let rise at a cool room temperature for 6 to 24 hours. The starter will triple in volume and still be wet and sticky when ready. Cover and refrigerate until use. May be frozen – defrost at room temperature.
Bread
11/4 tsp. active dried yeast
1/4 cup warm water
3 cups water, room temperature
4/5 cup biga – about 1/2 of the quantity you have made – freeze the remainder
71/2 cups unbleached bread flour
1 tbls. plus a bit more of salt
Stir yeast into warm water in a large bowl, let stand 10 mins. Add 3 cups water and the starter and mix well till well blended. Add flour and salt and mix, 1 to 2 mins. Turn out onto a well-floured board and knead, 3-5 mins ( dough will be sticky – you will need a scraper) Place dough in lightly oiled bowl, let rise until tripled, about 3 hours. Do not punch down. Turn out onto a floured surface, cut into two equal pieces, flatten dough. Roll it up lengthwise, turn 90° then flatten and roll up once again. Shape into a ball, cover with a heavy cloth, let rise until doubled, about an hour.
Bake in 450° oven for 45-50 mins.
Another Bread Recipe: Easy Bread Machine Technique
NINA's "German" Vinegar Potato Salad [from Mom's recipe box] Additional notes: "Mustard" should be "Dry Mustard." Whatever you do, keep stirring and be careful not to overheat the sauce. The potatoes should be peeled and still slightly warm when you pour the sauce over them and mix it up, adding hard-boiled egg slices if disired. The paprika is sprinkled on afterward as a garnish.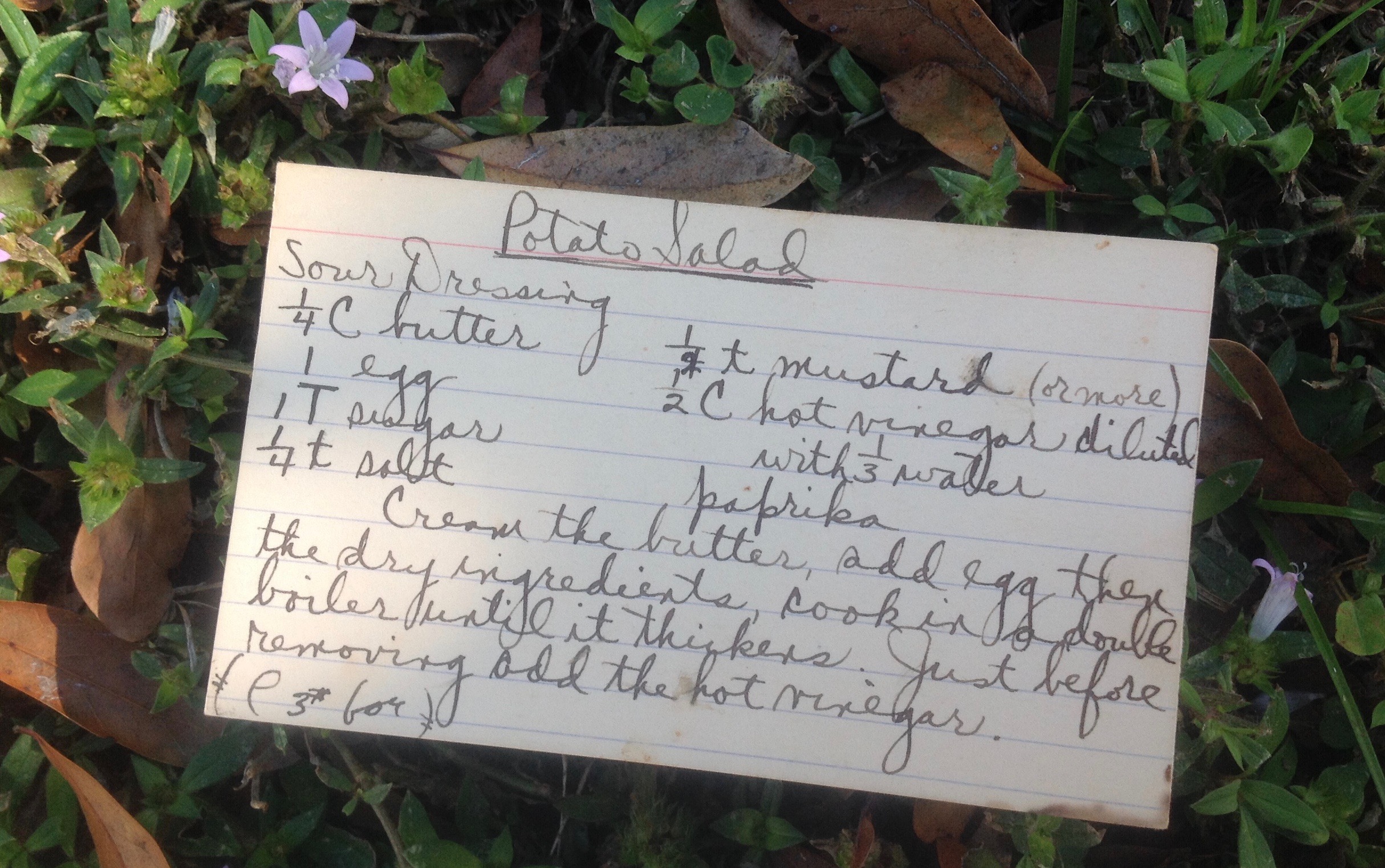 More to come – Stay tuned!